As we get closer to the colder weather, you will find yourself spending more time indoors. And if you're lucky enough to have a fireplace, you'll be relaxing by the fire! But have you been realizing lately, that your fireplace needs a new look? Maybe you want to change the brick color, maybe you want a new mantel or maybe you just want a whole new look. Whatever the reason, A Stone's Throw can handle the job! We have assisted many families in providing them with a fresh new look for their fireplace.
Fireplaces

While a lot of homes have the red brick around their fireplaces, a natural stone look is becoming very popular and is typically preferred by any fireplace we install. There are several stone/brick options to choose from and we will work with you to decide what the right look for your fireplace is.
Mantels
Something that you may be thinking about is updating your mantel. If you have one, you know how fun it is to decorate, especially during the holiday season. Even if you don't have a fireplace, it doesn't mean you can't have a mantel. We recently brought our two companies together, A Stone's Throw and Swerl Designs, to create this accent stone wall with a free-standing mantel and shelves. Check out the finished project below: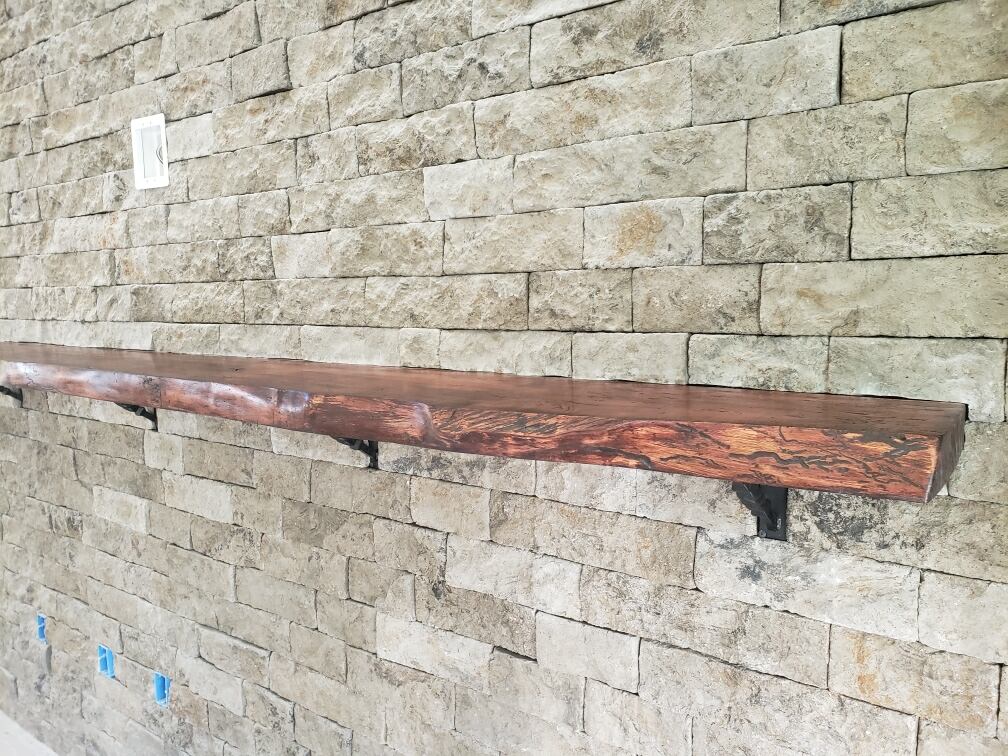 As we said, decorating mantels is a fun thing to do especially around the holidays! Here are a few ideas on how you can decorate your mantels:
Add garland and lights across the top, throw in some loose Christmas balls for more color!
Mantels are the best place for stockings to hang!
Try out red berry branches to give it a Christmassy feel.
Use it as a place to show off your favorite Christmas cards!
Give it a fresh look by adding poinsettias.
However you decorate it, the options are endless! Here are a few great ideas that we found!
Whether you're looking to have your fireplace redone, have a new mantle designed by Swerl Design, or are in need of a whole new fireplace, we are here for you! Contact us today to schedule an appointment.